Cat. 6A interoperable components allow for a 10 Gigabit/s transmission speed, guarantee transmission of all standardized protocols including 10GBASE-T and ensure a bandwidth of 500 MHz.
Due to the possibility of using products from different manufacturers and brands, users and suppliers do not depend on a single purchase source.
These components offer a future-proof solution, which currently represent a technical peak that will dominate horizontal cabling for the next 25 years.
This solution meets the expectations and needs of users with the highest demands on the quantity of transferred data.
HD components features
Double the number of ports in the patching field (48-port in 1U) compared to standard solutions (24 ports in 1U).
Save space in data cabinets and also increase usable space in server rooms and data centers.
Allow to extend number of ports in fully loaded data cabinets by exchanging 1U patch panels for 0,5U patch panels.
Allow patching a large number of ports in a single data cabinet.
Easy release of patch cords in high density patch fields.
Using of trunk cable and cross-connect cables allows to easily and quickly implement any necessary changes in a data center without a need to outsource other installation capacity.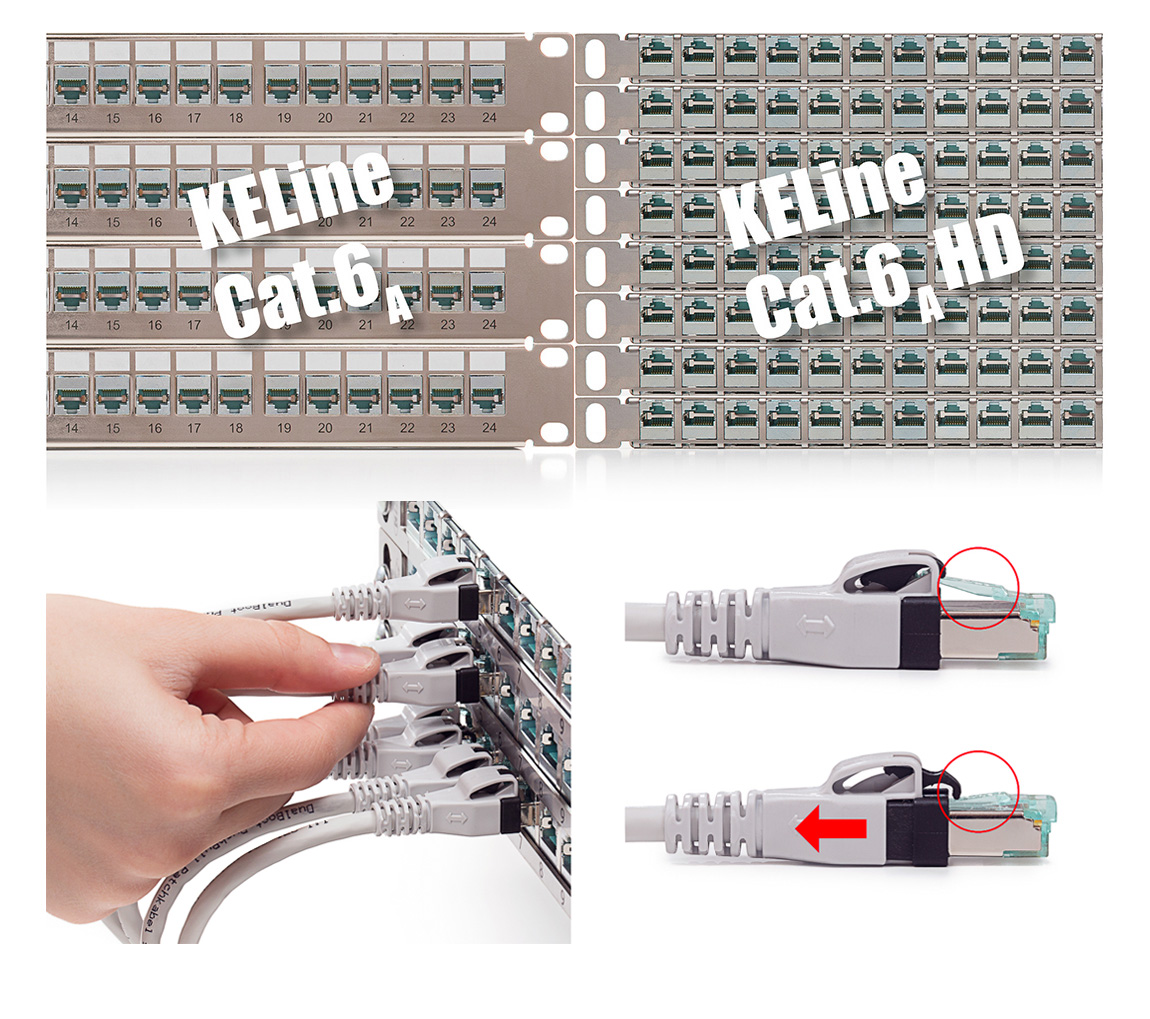 Definitions and features
Cat. 6A interoperable component complies with requirements of Category 6A performance defined in the recent international standard ISO/IEC 11801-1:2017 (Ed.1.0) on a component level and possess a certificate confirming this.
Cabling build up of these components guarantees:
Immunity to electromagnetic interference and Alien Crosstalk.
Performance category Cat. 6A and Class EA for all standardized topologies (2 -, 3 - and 4 - connector channel, 2 - and 3 - connector permanent link).
Warranties, certificates and quality control
Keline Cat. 6A interoperable components have been tested and certified by independent international laboratories GHMT, 3P and FORCE Technology. The certificates confirming compliance with the standards can be viewed on websites of the testing laboratories.
3P and FORCE Technology carry out a quality control of mass-produced products on a regular basis. This includes: "sample test", "maintenance testing", "quality audit of the manufacturer's quality assurance and production sites".
A 25-year warranty is applied on all installations completed by certfied "Keline installer" and "Keline planner" after an audit of test data.
show more